Flexible multi channel cable
Flexible multi-channel cabling solution for scalability in cryogenic i/o
Delft Circuits have re-envisioned the cryogenic i/o chain: a single-shot solution for getting your microwave signals from room temperature directly down to milliKelvin using a flexible multi-channel cabling solution. As part of this effort, every component of our Cri/oFlex® 3 flagship product is designed for scalability. Key challenges include balancing the thermal and electrical characteristics, whilst maintaining the robustness of the system in terms of installation and use. By using signal lines with distributed attenuation and integrating microwave signal conditioning, we almost completely eliminate the need for additional microwave components. Additionally, the small volume and low thermal load greatly increase the number of signal lines that can be installed inside a dilution refrigerator. This makes a flexible multi-channel cable Cri/oFlex® 3 a truly scalable technology for cryogenic i/o.
8 parallel channels
1 mm inter-channel pitch
No microwave breakout between stages
Bandwidth up to 10 GHz
Insertion losses < 10 dB/m @ f = 12 GHz and T = 4 K
Thermal load < 5* nW per channel @ T = 10 mK
Crosstalk < -40 dB channel to channel
Integrated filtering components
Customizable connectors (SMP, SMA)
Customizable channel lengths up to 130 cm
*For more detailed specifications, please download our datasheet.
Different quantum computing approaches put different requirements on attenuation and signal conditioning of the i/o chain. Therefore we are also developing on-flex microwave components. Directly integrating microwave attenuators in flexible multi-channel cable Cri/oFlex® 3 will eliminate the need for separate passive components and ultimately allow the design of customized signal conditioning tailored to your specific i/o needs.
Read more in the brochure.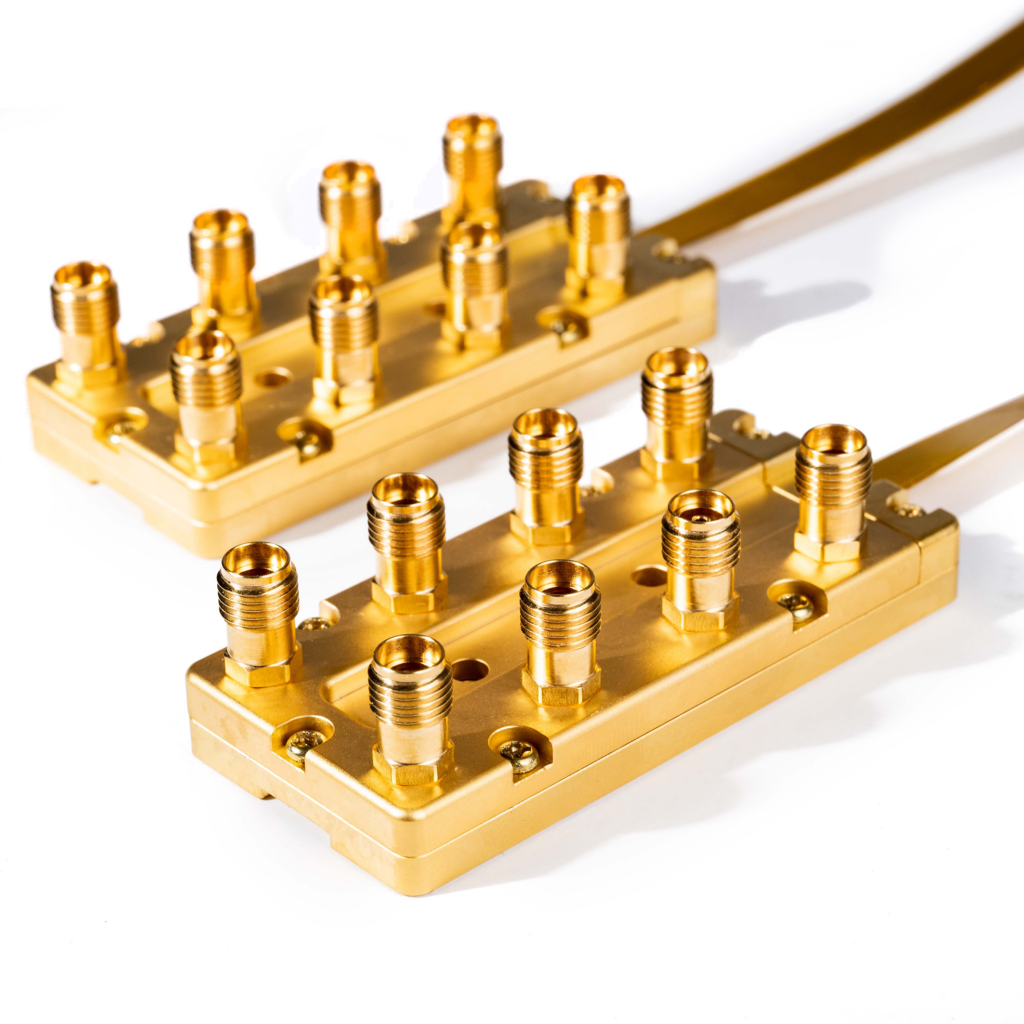 Product Applications of Cri/oFlex® 3
Cryogenic quantum computing architectures create stringent requirements on i/o for Qubit control. The flexible multi-channel cable Cri/oFlex® 3 is strongly steered towards component integration, increasing channel density and providing easy-to-install channels for large-scale (kQubit) quantum computing. Read more on why our product is especially well-suited for this application!
With scale-up of quantum internet hardware on the horizon, we foresee that this field will also quickly stumble upon hardware limitations in the i/o chain. As a result, the flexible multi-channel cable Cri/oFlex® 3 provides the solution for this problem, allowing for high-density microwave signalling with low-heat load.
Case study: Scaling up SNSPD read-out
One of the main roadblocks for the scale-up of SNSPD technology is detector density: the density on a given surface determines the chance a photon lands on a detector and is therefore directly related to detector sensitivity.
In parallel, requirements on the control hardware have been scaled-up proportionally. Find out how Cri/oFlex® 3  helped scale-up SNSPD read-out at Münster University in our case study.
"The flex lines were found to be robust against moderate tension and torsion, which allows for easy and fast installation without prior knowledge."
Ask one of our engineers how Cri/oFlex cabling can improve your setup!